The Rugby Beer Boat kicked off the campaign with an early bump under 30s into the race. The (very) heavyweight crew laid down a choopy, but powerful start to row past LMH 3.
W2 also set off on a flyer, having recruited some old hands, and some new. In a contentious three boat sandwich bump and a kerfuffle of appeals at RaceDesk, the middle Brasenose crew was deemed triumphant and are now racing ahead of Trinity W2.
M2 suffered a row over after a horrendous crash between Wolfson M2 and Merton M2 caused a severe klaxon.
W1 found themselves sandwiched between 2 grad colleges (St. Antony's and GTC), and despite their lack of age and experience, put up a tremendous fight! They chased down Antony's through the gut to get canvas, but frustratingly, they held them at half a length's distance for the rest of the course, which GTC gaining close behind. Despite some defensive coxing, they were bumped by GTC 100m from the finish.
Unlike W2, the Men's First VIII nearly found themselves in a 4 boat sandwich of St Hugh's, Brasenose, Worcester, St John's. With half a length to go for a bump on Worcester, some canny coxing by Hugh's pinned our boat to Green Banks – ultimately swiping us away from Worcester, who bumped John's as we were bumped by Hugh's. The ensuing entanglement caused Merton to have to hold their boat up, before continuing for a row over.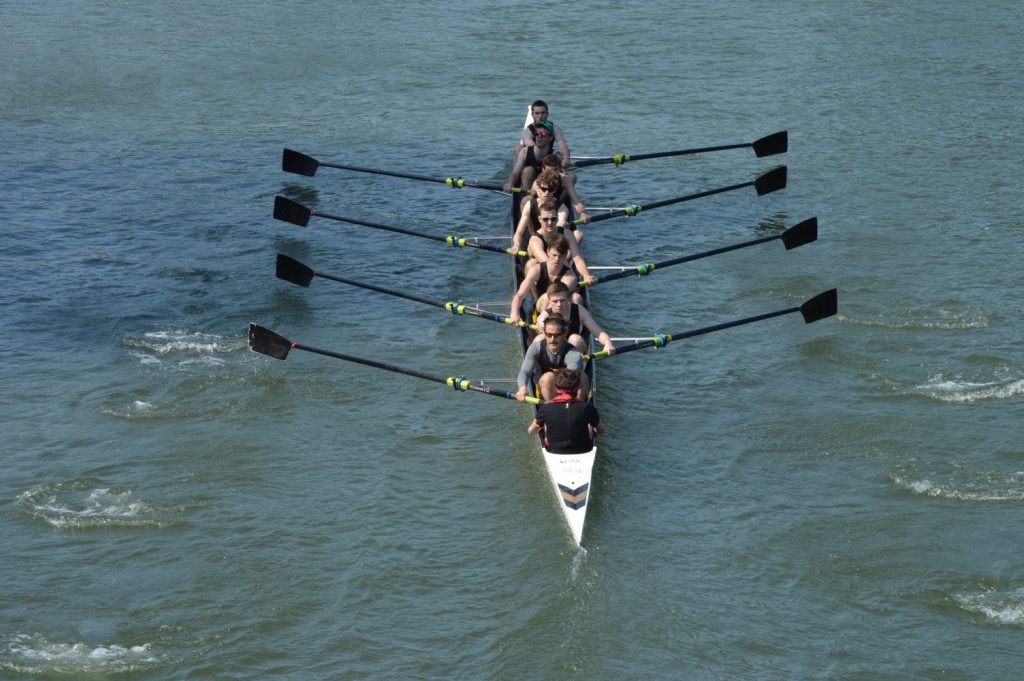 M2 on their way to a row over
M1, in a mix of fast crews, once again got caught coming out of the top of the Gut. Despite a rapid start and pulling away from Merton M1 by half a length, the crew began to struggle after clattering a goose under Donny Bridge and losing a length. Unsettled by the incident, they pushed on, but Merton had tasted blood in the water. Under no pressure from Exeter, Merton emptied the tank coming round the bend onto Green Banks chasing Brasenose onto the straight, and clipping seven's blade with their bows.

W1 faced another gruelling race ending in a row-over, but the girls can take confidence from having almost over-bumped Merton W1, after St Antony's and GTC bumped out ahead of them. A fantastic row! Today, they end up behind St Antony's W1 for the second time, with more determination than ever to not let them get away.

W2 are carrying on their winning streak with another quick and fast bump against Lincoln 3. Can they carry on this success and take on a (Regent's) W1 crew today?
Yesterday Brasenose M2 swiftly and decisively bumped Hertford M2, catching up well before Donny bridge. Without the time to even finish their start up sequence, the usual "backs in" call was superceded by that of "empty the tank"; signifying the first bump of their 2018 8s campaign.
M3: With 5 strokeside rowers and 3 bowside, the warm up to the start line was the first time this crew-combination had gone out. M3 were barely moving after their first stroke, most likely weighed down by their 190kg bow pair and a severe amount of chop from the four seat. Dreading the prospect of actually rowing the entire course, the crew dragged it back together to settle on a race pace of 38, bearing down on Catz at a rate of knots. Halfway between Donny Bridge and Haystacks they were gaining an overlap, bows level with the St Catz cox, before BNC swiped in for the bump. Two days, two bumps.
M1 setting off hard, but finishing softly…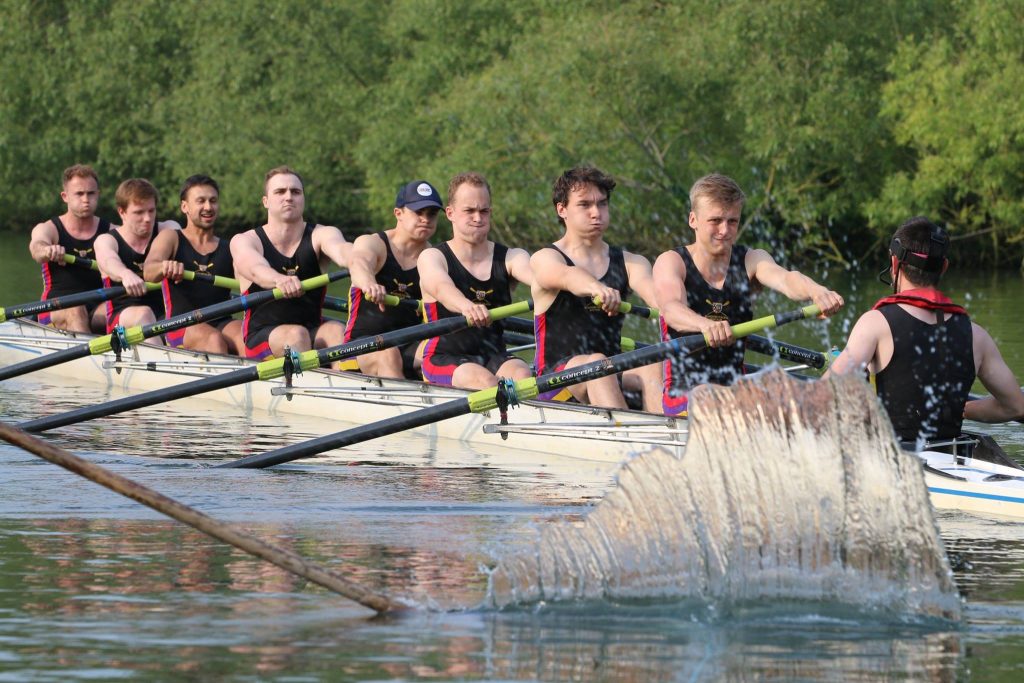 M3 continued an incredible campaign with another bump, this time on Queens 3. They showed they are a crew with more than sheer power today, with a longer race, showing stamina to chase them down to Donny Bridge.
W2 were unfortunate in that the crew two in front of them crashed into the bank early on, giving Regents an easy bump. We had to settle for a row over, but it was a strong, technical row non-the-less!
M2 charged early at Lincoln, sitting ¾ of a length away by Donny Bridge. Both crews put in strong pushes down greenbanks, with Brasenose slowly winding them in. However, they sadly ran out of river and were ¼ of a length off at the finish.
W1 put in another monumental effort to hold off Corpus Christi. Corpus had overlap for the last 200m but some stunning defensive coxing turned them one way before we doubled back and pushed for the line. Despite a last-ditch swipe, W1 made it home for an impressive row over from which they can take much confidence.
M1 went out hard and clean with the intention of bumping back Merton. They almost succeeded, getting to within a canvas before Merton bumped St Johns just before the gut. Having put everything they had into the push to catch Merton they were sadly unable to hold off what is a very impressive Exeter crew, being caught at the start of greenbanks.
On a glorious Saturday the time had come for our M3 to try make history. Having taken a cumulative 75 race strokes over the first three days they were on for blades – they just had to bump Lincoln. Their sheer watts off the start brought them close however as the race went on, surpassing 90 seconds for the first time, they started to tire. All the beer boat crabs that had so far been averted all arrived at once, giving Queens the opportunity to bump us back, which they gratefully took. Sadly, blades were not to be, but what a week for the lads who proved many people wrong. Hopefully they can go one better next year!
W2 had also had a great first three days, despite a changeable crew, and went into Saturday +2. However, Wolfson 3 came at them strongly and we were unable to hold them off for the whole course and were bumped. +1 for the week with two great bumps!
M2 got to enjoy the crowds on the Saturday as the boat ahead of them bumped out, leaving them with a long race against Regents 1 for the finish line. The row over never looked in doubt though, as our powerful crew strolled home. +1 for the week.
W1 had become accustomed to rowing the full course flat out having had two incredible row overs on Thursday and Friday. Saturday proved to be no different as they held off Corpus 1 after Antony's bumped out in front. -1 for the week but some of the most exciting racing you'll see! It is just a shame the cox forgot to turn the GoPro on for any of the races!
Finally, M1. Saturday was their chance to make history, to complete a spectacular Spoons winning campaign on a high. Ever the crowd pleasers, they held off Corpus until just outside the Corpus boathouse before being bumped to allow them to celebrate the bump with their fans!  
Spoons is clearly not the result M1 wanted, and maybe even didn't deserve, but bumps racing is a brutal format and that is the way it goes sometimes. They'll be back for Torpids with much higher ambitions.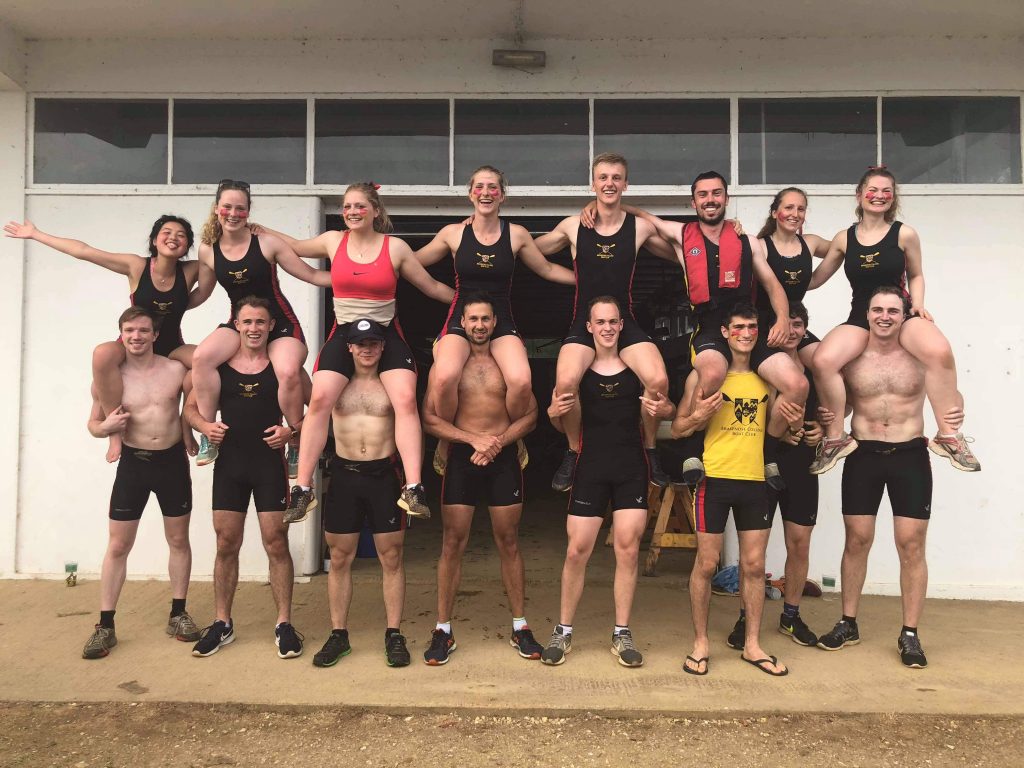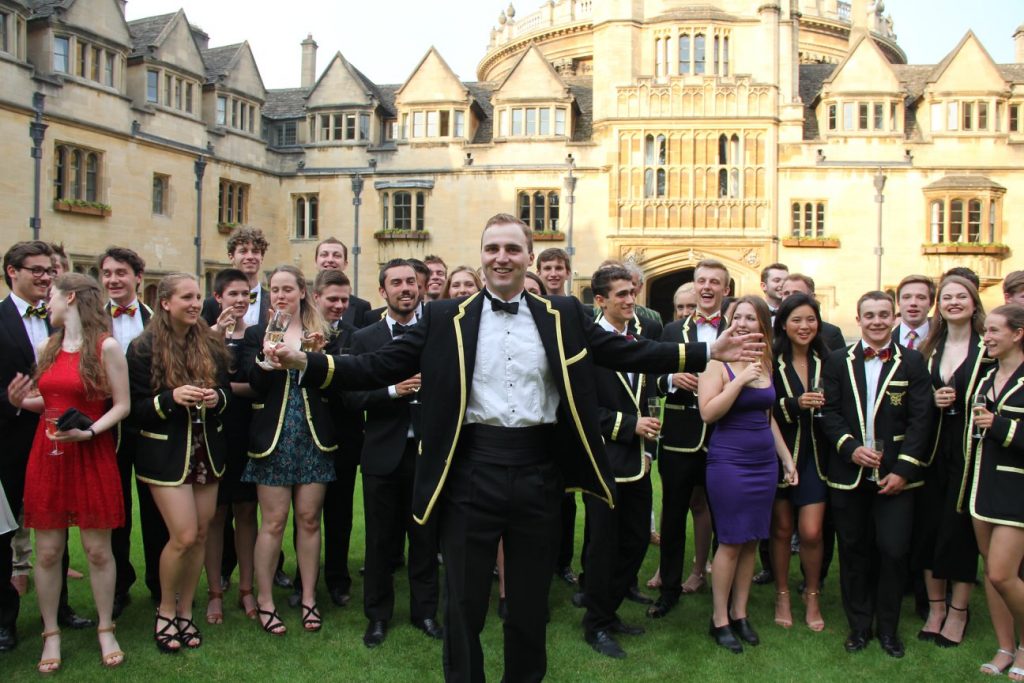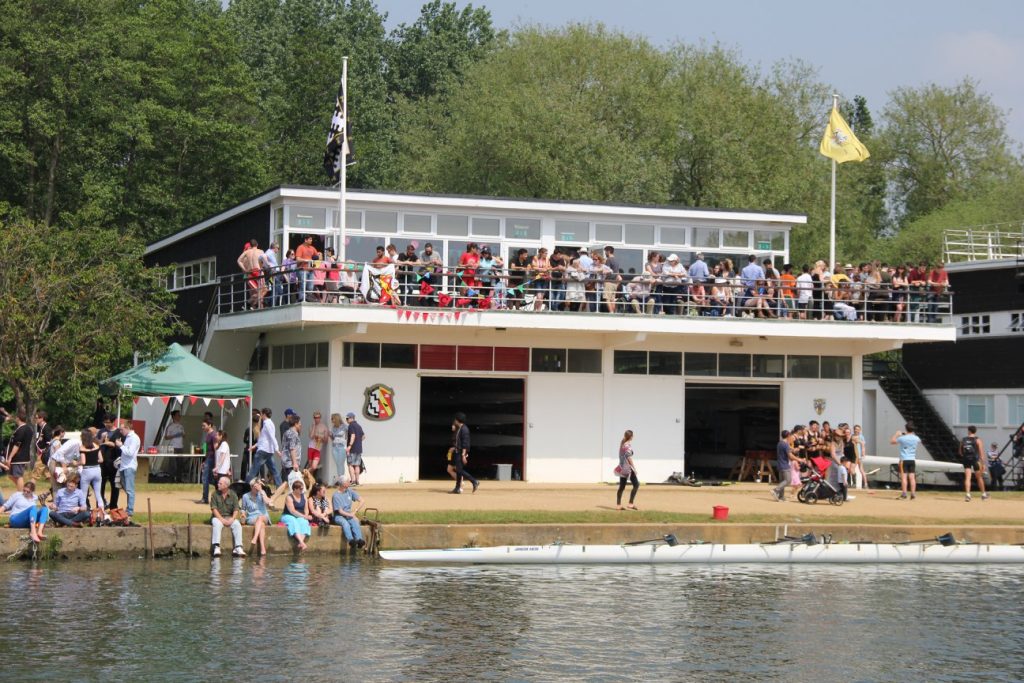 Men's First VIII
Stroke: Peter Edmondson
7: William Bunce
6: Bill Freeman
5: Sam White
4: Richard O'Halloran
3: Andrew Linden
2: Imre Juhasz
Bow: Joe Keel
Cox: James Roper
Men's Second VIII
Stroke: Matteo Maciel
7: Thomas Plews
6: Harry Wheeler
5: Oli Hanson
4: Tobias Sims
3: Greg Hartley
2: Tom McQueen
Bow: James Roper
Cox: James Maye
Women's First VIII
Stroke: Hannah Lipczynski
7: Katie Ramsey
6: Petra Kone
5: Esme Heywood
4: Sian Hale
3: Juliette Allen
2: Karen Zhang
Bow: Grace Hickman
Cox: Toby de Mendonca
Women's Second VIII
Stroke: Eleanor Dodd
7: Alice Walker
6: Anna Dobson
5: Lottie Hoskin
4: Harriet-Rose Noons
3: Celine Penant
2: Kimberley Savill
Bow: Sophie Gunning
Cox: Tom Stewardson